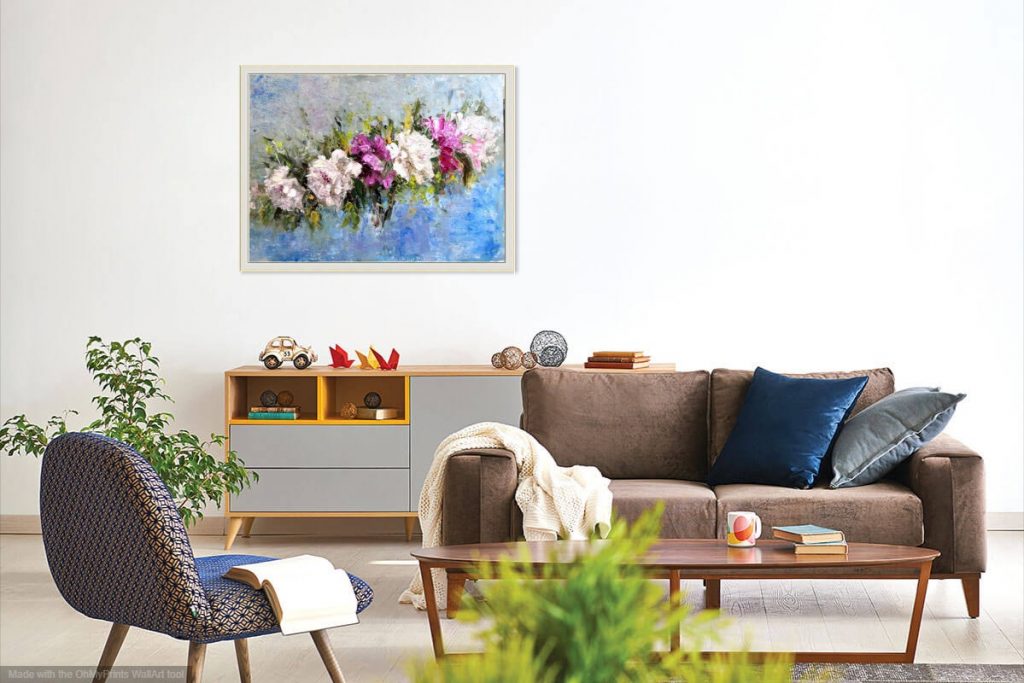 You have become the proud owner of a picture for the interior and now you are faced with the pressing question of how to correctly place it in your home. Surely you already had ideas about this.
but suddenly a problem with the presence or absence of certain fasteners may emerge. It's okay, because it's not a problem at all! If you have purchased an interior painting on a stretcher, then you can simply hang it on the wall by passing a cord through carnations or ready-made loops neatly driven into the stretcher from the inside. As a rule, contemporary artists prescribe the ends of paintings or paint them in white, black or some color that is in harmony with the painting. This is called «gallery stretch.» If you buy an abstract painting for decoration in the «loft» style, then even unpainted ends can be not hid with a baguette. Spills of paint on the side surfaces will add a unique flavor to the design of such a room.
Many contemporary artists use canvas on cardboard, hardboard or mdf panels for painting. Such surfaces are ideal for shipping, reduce the cost of work, and are in no way inferior in quality to works on canvas. Several options can be used to place such works.
Arrange painting in a baguette
As a rule, baguette shops offer options for frames with hanging fasteners. And you get a decorated job with a ready-made suspension mount.
Place the painting leaning against the surface
A modern way of placing pictures. You do not spoil the wall with holes, you can rearrange the picture in different places. It is only necessary to take into account that it is better to place small works at a height of about 1.5 meters from the floor, placing them on a table or shelf. Large works can be safely placed on the floor.
Make the mount yourself
You can make simple fasteners on the back of the painting. Secure the ends of the cord with glue and pieces of cardboard for small jobs. And boldly hang on the wall even without a baguette frame. For large-format work, you can use construction slats by gluing them with liquid nails to the back of the picture. Screw in small self-tapping screws and hang them on a cord like a regular picture on a stretcher.
In any case, you can contact the artist, discuss with him the options for fasteners and ask him to prepare the work for hanging in a way convenient for you. You can choose paintings for the interior right here, and order delivery with ready-made fasteners. Contact the artist in any way convenient for you: through the contact form, e-mail, WhatsApp, Viber.