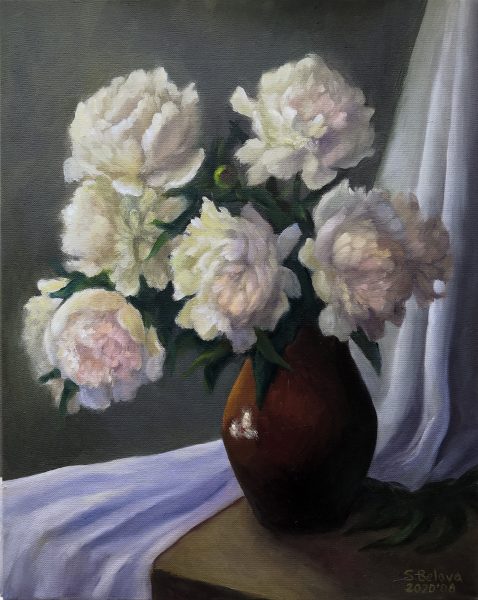 SOLD!
Painting for interior design. Author's classical painting with flowers. Harmonious colors. Still life with white peonies in a brown jug. Peonies are a symbol of prosperity, love and strong relationships. Peonies symbolize success and career growth. Manual work without using a printer. Natural cotton canvas on a modular wooden stretcher.
Пионы в глиняном кувшине
Картина маслом на холсте с подрамником. размер 40х50 см. Требует оформления в раму.
Лаконичный колорит. Классическое цветовое решение. Подойдет к любому интерьеру.
Size:
2cm x 40cm x 50cm

(LxWxH)
Shipping
Shipping ABROAD by EMS about :

$50,00
Description
ПРОДАНО!
Пионы в глиняном кувшине
Картина маслом на холсте с подрамником. размер 40х50 см. Требует оформления в раму.
Лаконичный колорит. Классическое цветовое решение. Подойдет к любому интерьеру.
Peonies in a clay jug
Oil painting on canvas with stretcher. size 40×50 cm. Requires registration in a frame.
Laconic flavor. Classic color scheme. Suitable for any interior.
Functions
| | |
| --- | --- |
| Material | Oil |
| Base type | stretched canvas |